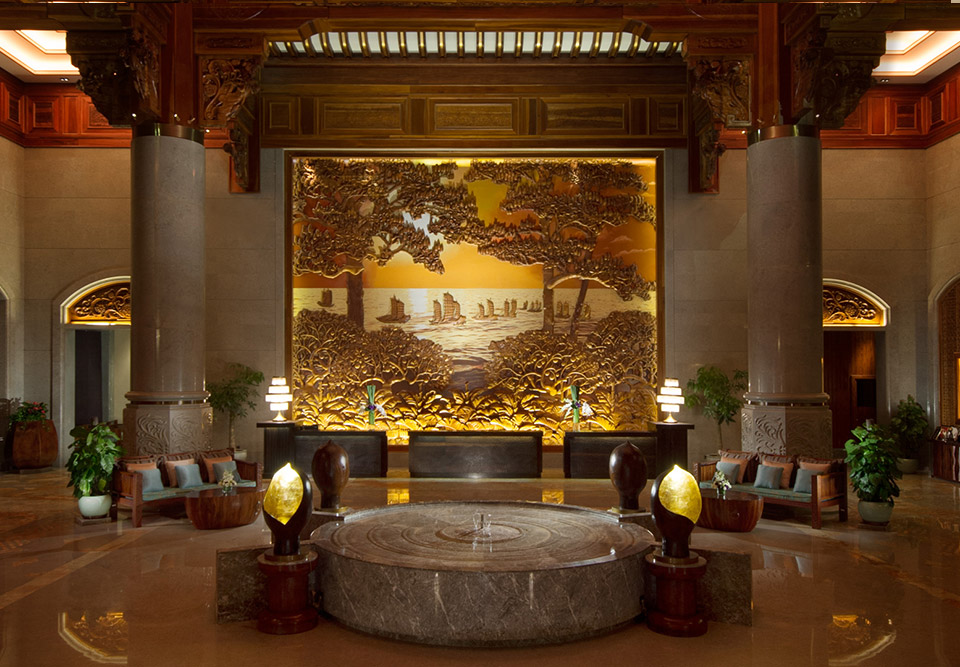 Located on the National Coast – Haiwtang Bay, Sanya, which is a continuous 20 km expanse of white sand on Hainan Island, Wanda Vista Resort Sanya is directly opposite Wuzhizhou Island, a diver's paradise, and adjacent to the upcoming Sanya Finance Forum Convention Center project by Poly Group. The resort is only a 25-minute drive from Sanya Phoenix International Airport and a 12-minute drive from the Sanya Duty Free Store.
Inspired by Hainanese culture, Wanda Vista Resort Sanya combines contemporary décor with classic Chinese design, using the finest materials available from the south of China. The resort features 399 guestrooms, including 320 deluxe guestrooms, 54 suites and 25 residential-style villas. Five restaurants and bars are available for guests to savor the best of Hainan's delights, including a Chinese restaurant, an all-day dining restaurant, a buffet restaurant, the Lobby Lounge and a beer bar.
A unique, 1,200-meter long seawater river runs around the buildings, where guests can enjoy a dragon boat ride to their building from 9:00 am to 10:00 pm daily. The Wood Art Museum is completely surrounded by the spectacular river and housed in a century-old Shanghai-style mansion which was previously owned by a 20th-century celebrity, Mr. Du Yuesheng. The museum was brought in from Shanghai, and serves as the ideal venue for small weddings, corporate events, private parties or exhibitions for up to 40 people.
Wanda Vista Resort Sanya's spa is located in the villa complex's wellness area and offers a wide range of spa treatments designed to revitalize the body and mind. The Fitness Center offers a tailor-made schedule of classes ranging from yoga to Pilates and personal training. Facilities include changing rooms and relaxation areas as well as saunas and steam rooms. The resort has direct access to the beach and an outdoor swimming pool with views of the 2,500-sq m garden, along with a children's pool. The Kids Club is conveniently located close to the main area of the resort, where junior guests can enjoy their holiday. Another unique feature of Wanda Vista Resort Sanya is the 18-hole miniature golf putting green for all levels of golfers.
Café (all-day dining)

With its stylish European interiors, an open kitchen and nine different food stations, Café invites guests to enjoy live cooking and a large variety of international and seasonal cuisine. Executive Chef brings a talented team of chefs to prepare dishes from central Europe and around the world. Guests can savour innovative local dishes and Hainan favourites in this restaurant, which also includes two private rooms for an intimate dining experience.

| | |
| --- | --- |
| Floor | First floor of the Hotel Lobby |
| Seats | 488 seats(2 room) |
| Open Time | 07:00-11:00 12:00-22:30 |
| Telephone | +86 (0898) 8865 5555 - 8797 |

Yuen Court

The Yuen Court Chinese restaurant is the perfect mixture of contemporary elegance and Chinese cultural feature, and has 13 intimate dining rooms through which the river flows. The restaurant serves Cantonese cuisine and Hainan specialties.
Along with a selection of traditional Chinese spirits, imported and domestic beers and fine wines are available to complement the dishes.

| | |
| --- | --- |
| Floor | First floor of Building 4 |
| Seats | 240 seats(13 room) |
| Open Time | Lunch: 11:30-14:00 Dinner: 17:30-21:00 |
| Telephone | +86 (0898) 8865 5555 - 8757 |

Love to Eat

A European Breakfast experience á la is offered buffet style exclusively to the residents of the Villas at Love to Eat Restaurant.

| | |
| --- | --- |
| Floor | First floor of Building 4 |
| Seats | 72 seats |
| Open Time | 07:00-10:30 |
| Telephone | +86 (0898) 8865 5555 - 8617 |

Lobby Lounge

Relax and enjoy one of the most beautiful places in the hotel. The Lobby Lounge Terrace invites with breath-taking views over the lush garden onto the Ocean, and Wuzhizhou Island.Savour delicious homemade cookies, tartes and cakes from our European bakery, accompanied by a nice cup of tea from the wide choice of Chinese and European teas, or experience a Chinese Tea Ceremony.

| | |
| --- | --- |
| Floor | Hotel Lobby level |
| Seats | 96 seats(4 room) |
| Open Time | 09:00-23:00 |
| Telephone | +86 (0898) 8865 5555 - 8737 |
loding...
loding...
Exterior
Lobby
Guest Rooms
Dining
Swimming & Fitness Facilities
Meetings & Banquets
loding...