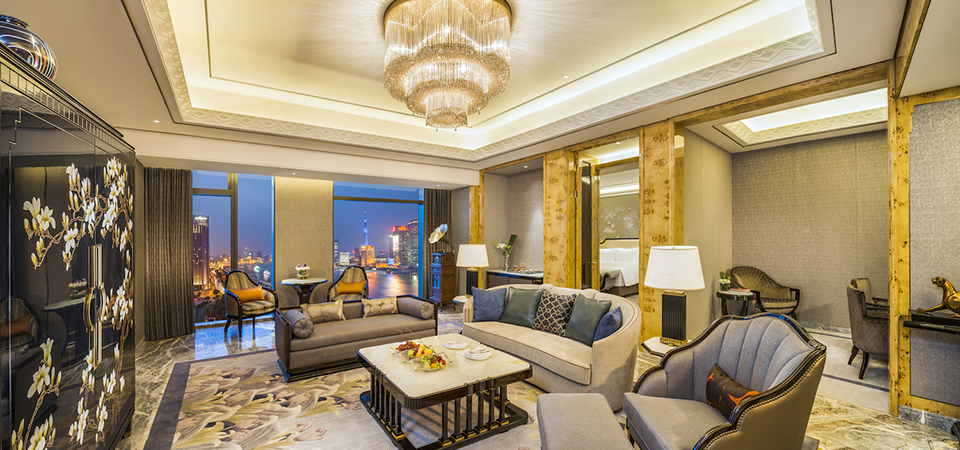 Grandly situated along the iconic Huangpu River, Wanda Reign on the Bund enjoys magnificent views of The Bund, Huangpu River and Pudong skyline. Guests can conveniently walk to the hotel's historic neighbors, the ancient Yu Garden and City God Temple. The hotel is 42 kilometers from Shanghai Pudong International Airport, 16 kilometers from Shanghai Hongqiao Airport, and 6.4 kilometers from Shanghai Railway Station.
Guestrooms and Suites
The hotel features 190 luxurious guestrooms including 13 uniquely designed suites, ranging from 45 square meters to 288 square meters, with stunning views of The Bund, Huangpu River, Pudong skyline and the ancient Yu Garden. Guestrooms are designed in two distinctive styles – Trendy with high energy and Noble, Luxurious and Distinguished. Featuring beige tones, the Trendy concept blends Art Deco glamour with modernity, while the Noble style incorporates mahogany burl wood, magnolia embroideries and Art Deco elements to create a distinct sense of place.
Restaurants and Bars
The hotel offers a premium collection of cuisine choices, ambiances, discreet services and the best culinary team in the city. It features five restaurants and bars including RuiKu Restaurant and Champagne Lounge, Café Reign, an all-day-dining restaurant; RIVER DRUNK, a Huaiyang Chinese restaurant; HE Japanese Restaurant and Lobby Lounge.
Banquets and Meetings
Grandeur meets cutting-edge technology. Wanda Reign on the Bund provides the quintessential luxury location of choice to impress. Located on the third floor, the majestic Grand Ballroom and three private function rooms offer the perfect venue for wedding celebrations, dinners, private parties and business events. With an unobstructed 180-degree view of the Pudong skyline and the Huangpu River, the 720-square-meter pillar-free Grand Ballroom is equipped with an 82-square- meter LED screen and state-of-the-art audio system. With an eight-meter-high ceiling, the Grand Ballroom can be divided into two banquet halls to accommodate functions of any size. Three additional private function rooms range from 39 square meters to 175 square meters. A professional team of event managers ensures a flawless experience for all occasions. For a truly unforgettable reception, the hotel's chauffeured Rolls-Royce Phantom is available to welcome guests.
Club Reign
Especially tailor-made for Shanghai elites, Club Reign at Wanda Reign on the Bund combines the ultimate comfort, privacy and unparalleled luxury service for our honorable members. Club Reign Shanghai members exclusively enjoy bespoke food and beverage services and exceptional private areas. The club facilities range from a unique Wine & Cigar Bar to the SHUI Spa and the fancy Universe KTV.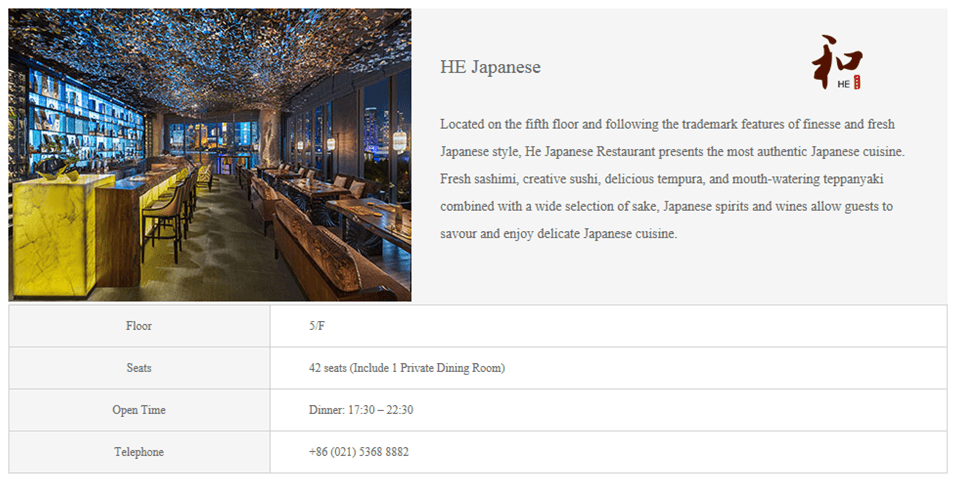 Open Time Lunch: 11:30- 14:00, Dinner 17:30-22:30
Café Reign

Located on the ground floor with an open kitchen setting, the all-day-dining restaurant presents guests with buffet breakfast, lunch and dinner. The buffet breakfast features Shanghainese cuisine, while the rest is continental. Lunch and dinner offer guests the most exquisite and exclusive dining experience.

| | |
| --- | --- |
| Floor | 1/F |
| Seats | 100 seats (Include 1 Private Dining Room) |
| Open Time | Breakfast: 6:30 - 10:30(Weekdays) Breakfast:6:30 - 12:00(Weekend) Lunch: 11:30 - 14:30 Dinner: 17:30 – 22:30 |
| Telephone | +86(021)53688882 |

RIVER DRUNK

Located on the fifth floor, the restaurant presents high quality grand Huaiyang cuisine specializing in fresh seafood. Master chefs prepare the most authentic cuisine for guests with the freshest seasonal ingredients.

| | |
| --- | --- |
| Floor | 5/F |
| Seats | 74 seats (Include 6 Private Dining Rooms) |
| Open Time | Lunch: 11:30 – 14:30 Dinner: 17:30 – 22:30 |
| Telephone | +86(021)53688882 |

HE Japanese

Located on the fifth floor and following the trademark features of finesse and fresh Japanese style, He Japanese Restaurant presents the most authentic Japanese cuisine. Fresh sashimi, creative sushi, delicious tempura, and mouth-watering teppanyaki combined with a wide selection of sake, Japanese spirits and wines allow guests to savour and enjoy delicate Japanese cuisine.

| | |
| --- | --- |
| Floor | 5/F |
| Seats | 42 seats (Include 1 Private Dining Room) |
| Open Time | Lunch: 11:30-14:00(Mon-Fri) Dinner: 17:30 – 22:30 |
| Telephone | +86(021)53688882 |

MARC

RuiKu offers the ultimate luxury dining experience to its distinguished guests and customers. Located on the top floor (21/F) of Wanda Reign on the Bund, RuiKu is one of the property's main highlights. The exclusive dining venue boasts stunning views of the Bund's historic waterfront and Pudong's futuristic skyline – a perfect setting for guests to enjoy fine-casual dining featuring seafood, oysters, and a champagne and wine lounge. In the evening, it transforms into a terrace bar where patrons can sip champagne and enticing cocktails to beats from world-famous DJs.

| | |
| --- | --- |
| Floor | 21/F |
| Seats | 60 Seats(Include 1 Private Dining Room) |
| Open Time | Afternoon Tea: 14:00 – 17:00 Dinner: 18:00 – 22:00 Cocktail: 22:00 |
| Telephone | +86(021)53688882 |

Lobby Lounge

The Reign Afternoon Tea reminiscent of Old Shanghai for food lovers at the hotel's Lobby Lounge, bringing back the good old leisure times with elaborately prepared savory treats. At the same time, its extensive whisky and single malt selections bring business or leisure guests an exclusive and unique experience.

| | |
| --- | --- |
| Floor | 1/F |
| Seats | 30 seats |
| Open Time | 09:00-22:30 Reign Afternoon Tea: 14:00 – 17:00 |
| Telephone | +86(021)53688882 |
loding...
loding...
Exterior
Guest Rooms
Dining
Swimming & Fitness Facilities
Meetings & Banquets
Club Reign
loding...